"Hi! My name is Nuri Company. I spent a few years without practicing English or taking classes and I realized that I needed to brush up as I used to be able to speak quite a bit and I had lost my fluency.

I was looking for an English training program that would provide me timetable flexibility as well as improving my English at a good pace and I found CiE.

After almost two years taking regular online English conversation lessons, I have been able to improve my fluency and confidence. On top of that, it is easy to book the lessons and you can choose different teachers. The classes are tailored to your needs. The teachers and the administration are always willing to help you.

I really recommend CiE's methodology because you can improve your English in easy and fun way.

by Nuri Company -
Documentation Specialist Technician of Pharmaceutical Production
Girona, Spain


Emanuele Carini
"As a proud student of CiE's since 2019, I particularly appreciated the launch of Online Kids lessons program. In our country the study of English is present starting from primary school, but it is always taught in Italian and very little time is dedicated to comprehension and conversation. After five years my children had a less than basic level of English, and in an integrated and international world this is far from real needs and future perspectives.

So, I requested a trial lesson for my 13-year old son, Emanuele. The teachers provided an exact picture of his level and potential for improvement. He started with one/two lessons per week and after a couple of months I'm marveled to see him being able to understand a mother tongue teacher, even replying and having a conversation -wow!

The topics are tailored to his age and interests, from Pokemon cards up to the Galaxy. Time goes by with pleasure and always too soon...

I warmly suggest making this investment in your children's future, providing them with the opportunity to correctly learn the most spoken language from school age. It will offer them an open mind, unforeseen opportunities and a whole new world to discover."



by Cristina di Marco - Project and Portfolio Management Officer
Ancona, Italy


Evgeniya Rudyuk
"Hello, everyone! My name is Evgeniya Rudyuk and I'm glad for the opportunity to write this testimonial.

I must say I hadn't taken English speaking classes with native teachers before Conversing in English. CiE changed my experience of learning English in a positive way. I was afraid to speak English when I came to this course. Nevertheless, now I feel free to express my thoughts in English and to solve daily errands in Turkey.

I would like to thank my first teacher Rhoda for believing in my success and huge encouragement. I want to say "Thank you, Ana!" for interesting and warm conversations. I thank Joe and Jason for their systematic approach to teaching and the fact that they share my life values. I was really happy to suddenly meet Drew and I'm going to continue learning with him too in the near future :)

Moreover, I am thankful to Bruno for an excellent student support service as wells as comfortable educational and payment processes.

I hope these lessons will help me pass an English exam in order to enter a filmmaking school abroad.

I wish all the best to CiE and to every teacher I have met and also the ones I am not acquainted with yet."

by Evgeniya Rudyuk, Screenwriter & IT Startup CEO
Moscow, Russia


Javier Peinado
"I was introduced to CiE by its first ever student. He recommended it to me as good value, flexible and an encouraging way to learn English. After many classes, I totally agree with him.

CiE's methodology has the best of having a private English teacher, where you feel you are learning in company and tailored to your needs, as well as an even better formula of having access to a variety of teachers from different countries, being able to interact and learn with different accents and ways to speak English.

The structure of the classes is very well balanced and totally adapted to practise specifically what you want to learn, although the real difference is how the teachers handle your learning and motivate you to make the most out it in class.

Last but not least, I want to highlight as CiE's key feature, the benefits of being able to book classes without agenda limitations and the option to choose different teachers for each class, nonetheless always feeling they are following the same thread and committed to your personal learning process.

Thanks CiE for helping me in my English learning process!"



by Javier Peinado - Digital Marketing Specialist
Barcelona, Spain


Alberto Román
"My name is Alberto Román. If I remember correctly, I started Conversing in English more or less 2 years ago.

At first my target was very clear: to be prepared for and manage to pass, a very difficult job interview in order to obtain an important position at Airbus. Step by step I felt that my accent, my vocabulary and overall, my way of communicating was improving and eventually I was able to get the position!

Nowadays I work at Airbus thanks to CiE. Nevertheless, CiE for me has been more than a stepping stone to my dream job. I enjoy every lesson because each one is special, and each teacher too. I connect, laugh a lot, I'm able to share with them a bit of my life and "problems" -they are definitely like family.

When I look back I feel very proud of my learning experience and I have no doubt that I will continue learning with Conversing in English."

by Alberto Román, Tooling Engineer
Seville, Spain


Manak Bhambi
"After trying several methods in order to improve my level of English, I would like to recommend everyone the method that teachers at CiE implement.

The experience that I've had with every teacher I've been working with has been excellent! All of them are kind and help you improve in every single lesson. They don't make you go mad, giving out long repetitive homework. On the contrary, they focus on your development as a speaker of English through natural conversation.

Also, they are very helpful if you have specific questions or if you would like to practice and develop a professional or personal topic within your environment. The lesson summaries that teachers prepare and share with you at the end of every lesson, are so helpful too!

Another strong point that stands out with CiE's method is the flexibility in scheduling classes. You can easily choose and book your preferred timeslot from lots of options on your favorite teachers' calendars.

From my side, the experience has been superb. I totally recommend taking CiE into account if you really would like to have well-guided progress with your English!"



by Manak Bhambi - Senior Security PM
Barcelona, Spain


Bastien Millet
"I would like to briefly share my experience with all the CiE team which has been a very positive one.

I feel that I have improved my English skills in all possible aspects through interesting topics discussed and developed in class.

Congrats Conversing in English for a great team and an effective methodology!"

by Bastien Millet, IT Training Consultant
Barcelona, Spain


Sergio Noguera
"When I started learning English, my level was not very good. I didn't understand much and couldn't maintain a conversation.

At CiE I have been learning with 3-4 teachers. The lessons are very easy to do and motivating. The teachers continuously help you improve your English overall. They identify your needs and make an effort to improve on these. Also the teachers are constantly evaluating your language to help you fix your mistakes.

Bruno dedicates his time selflessly. He continuously knows how to keep you motivated and interested to get the most out of you and definitely by practising and speaking a lot in each lesson.

I will continue learning with CiE so I can eventually speak English professionally.

Thanks to all the team!"



by Sergio Noguera - Pharma Sales Representative
Alicante, Spain


Rafael Adame
"I've been studying English for years and I always had the feeling as if starting from scratch every time. Always the same story: grammar, phrasal verbs, irregular verbs and so on. But the reality was that when I needed to speak English I would get stuck and words didn't come out.

Working with the CiE team is a different story. You start speaking from the very first minute and every lesson you get to speak for nearly one hour. Of course, you get to listen too, and the great thing is the diversity of teachers which exposes you to many accents, making the process even more beneficial.

After two seasons with CiE I realize I am able to speak English with such fluency I never had before. It armors me with self-confidence when having to face real-life situations with English speakers: fear no more. Just keep improving by keeping in touch with the language and, for sure, with CiE's help whenever possible.

Thank you very much to Bruno's team. Great professionals."

by Rafael Adame, Senior Project Manager
Barcelona, Spain


Silvia Ramírez de Cartagena
"After having had some bad experiences in the past, a colleague at work suggested to me joining CiE. Honestly... it has been a discovery for me!

It came at the perfect time, offering me flexibility to be able to do the classes. In addition, the service treatment is unbeatable. The lessons are pleasant, all the teachers are great and I would say each one of them has a different special touch that makes every class unique.

I strongly recommend to everyone trying out CiE and start enjoying English!"



by Silvia Ramírez de Cartagena - HR Technician
Girona, Spain


Javier Ramón
"CiE's learning approach is the best! You have the chance to practice your conversational skills with teachers from all around the world, and different accents, from the comfort of your sofa. I also love the fact that I don't have an assigned teacher. I can book classes with whomever I share most interests with but still within a standard methodology.

I one hundred per cent recommend this learning platform and its teachers to whomever feels they have plateaued with their English"

by Javier Ramón, Security Engineer
Menorca, Spain


Nerea Vilarrubias
"I have been learning English at CiE for more than 4 years now, and I can truly say that only CiE has been able to keep me motivated and learning English, after so many years!

Why is CiE, for me, one of the best methods I've ever tried? First of all because they use an easy and flexible methodology that gives us the opportunity to easily book classes when our schedule allows it. The classes are dynamic, fun and there is not a day that you don't learn something new! Plus after the class, you receive a comprehensive summary of the lesson -very complete!

The secret of their success, at least for me, it is because I feel that the teachers have become my cyberfriends; achieving an extra bond that makes you want to come back to see them again and again!

Last but not least, Bruno's customer service is excellent! He is always willing to help and solve any unforeseen issues that may arise ;)

I am happy to belong to the beautiful CiE family and hope for many years to come!"



by Nerea Vilarrubias - HR Business Partner
Girona, Spain


Rebeca Sánchez
"CiE teachers have been the only ones able to keep me motivated to learn English. All my life I have tried different methods but CiE has been by far the most effective.

I feel CiE teachers as cyberfriends; they make lessons fun while didactic; they are capable of teaching English through topics of interest using many different useful tasks.

Additionally, due to my job, I have work peaks during some periods but CiE's integrated and flexbible method gives me the opportunity to easily book lessons whenever my schedule allows it and I can do them both from work or home, even on weekends!

Finally, I love Bruno's attention to customers. ¡He is always ready to assist and solve any unforeseen that may arise with a good dose of hospitality!"

by Rebeca Sanchez, Tax Advisor
Barcelona, Spain


Sergio Aguilar
"After 8 months taking lessons with Conversing in English, I've had a great improvement!

I had been studing English all my life but my level was always the same. When I started my lessons at CiE I knew grammar and some vocabulary already but I wasn't able to use it in conversation because I didn't have enough fluency. It took me too much time to complete a long sentence.

During these 8 months I've improved my fluency, my confidence and my listening. Another great point is the teachers' timetable flexibility. I can book lessons any time which is very important for me

I totally recommend CiE without a doubt!"



by Sergio Aguilar - Project Manager SAP HCM
Madrid, Spain


Cristina Di Marco
"I've been studying English forever: primary, secondary school, university. And after so many years of grammar and irregular verbs I concluded that my English speaking and listening skills were really poor.

The situation seemed hopeless when I got in touch with Bruno on Linkedin and I booked a trial lesson. I immediately liked the approach, very friendly but well planned and demanding.

I loved the timetable flexibility, the vast number of timeslots even on weekends, the nice lesson topics and, most of all, the kindness of the teachers.

So I decided to start a pack of lessons with Conversing in English and in a couple of months I noticed my English comprehension was improving, and my pronunciation (still far from Royal Family like) is less "Mediterranean".

Like a child who sees the snow for the first time, I was astonished when I understood the words of a song or a parts of a movie.

CiE has been successful where fifteen years of school had failed. I warmly suggest starting with a trial lesson and check the difference with other courses. It could be a good way to take advanatage of the unusual and stressful period we're currently living.

Writing these lines would've been very difficult last year, and I'd like to thank Bruno, Ash, Ana and all the CiE teachers for walking me thorugh this interesting and nice journey with English."

by Cristina Di Marco, Project & Portfolio Manager
Rome, Italy


Maria Giovanna Fidone
"I came across CiE totally by chance on the web 2 years ago, when I was looking for an agile and flexible way to practice my English with on a weekly basis, adapted and balanced to my working and private life.

I discovered a smart, highly qualified and professional CiE team with great motivation. I've attended lessons on various topics of my interest, and I also have been encouraged to share new topics and discussions.

In the summaries I receive after any lesson, I find the right way to fix and examine new words, expressions, grammar review with a general evaluation of my performance in class. Furthermore, the rates are very competitive in the online market.

Nowadays I'm definitely more self-confident with my English and I certainly recommend CiE to my friends."



by Maria Giovanna Fidone - former Officer of UNHCR
Rome, Italy


Enrique Ruso
"I have been taking lessons with CiE -the best English learning platform I have ever tried.

My experience with CiE has been very profitable, achieving my goals in a short time with classes adapting to my needs.

The teachers are exceptional, with great charisma and desire to teach. The lessons a sure success. I will surely continue taking classes with CiE to keep improving my level of English and thus achieving my professional and personal goals related to learning a language.

I recommend this English study platform without a doubt. With CiE you will be able to enjoy learning English."

by Enrique Ruso, Project Manager
Barcelona, Spain


Cristina Ferraioli
"My experience with CiE started a couple of years ago... I was stuck in an intermediate level and I needed to raise the bar in order to get new job opportunities in my industry. I had already tried other solutions without success because they hadn't met my needs.

With CiE and all the team, I discovered great timetable flexibility and most importantly great teaching capabilities from all the teachers. Lessons tailored to my topics of interest whilst comfortably sitting on my couch.

I've improved a lot now and I'm able to face interviews, do presentations showing myself always confident.

My strong intention is to carry on in this way in order to consolidate my achievements and practise practise practise!"



by Cristina Ferraioli - First Line Sales Manager
Naples, Italy


Antoni Torrell
"I was looking for an effective way to improve specifically my fluency in English, as I don't have the opportunity to speak frequently in this language.

Another thing that I was looking for was the flexibility to be able to take lessons at whatever time I would be free, taking into account my busy schedule and adapting it according to my work week.

Conversing in English completely meets both requirements and it gets better. You can talk with several teachers of different nationalities, backgrounds but following cohesively the same methodology. You get used to talking to real people with different accents therefore a big a plus.

I have noticed that my fluency has improved greatly and I thank Bruno and the rest of the crew for their patience and the good vibes that they transmit."

by Toni Torrell, Business & Financial Controller
Barcelona, Spain


Angeles Serena
"My experience with Conversing in English is a very good one. I had been trying with other methods to learn English for years but I had the feeling that my English did not improve -that I was stuck on the same level.

Thanks to Bruno and the teachers of Conversing in English, I am improving my English day by day and I am much more confident.

With this method you have a lot of flexibility to bring your own pace, the teachers are of different nationalities being exposed to a variety of accents.

After each class, you receive a lesson summary that is very useful to review your learnings and you can use the suggested self-study material to go deeper if you want.

All the teachers are very attentive and the classes are very entertaining. You learn something new every day, they adapt to my level which makes my classes more efficient.

I really recommend this method if you want to improve your English in an easy and fun way."



by Angeles Serena - HR Analytics Manager
Barcelona, Spain


Ana López
"After two years taking regular online English conversation lessons with CiE, I have improved my fluency and confidence which none of the traditional face-to-face courses I had attended, achieved so quickly. These two abilities have improved both: my personal and professional life.

In every lesson, CiE teachers help me learn and/or review new vocabulary and grammar in a dynamic and natural way while you practise your English skills. After every class, you receive a lesson summary with the mistakes, new expressions or vocabulary learned and other useful tools adapted to your needs.

For me, CiE's strengths are: 1) the wide available timeslots (giving me flexibility), 2) the great and friendly team of teachers from different countries (not only helping me understand different accents but also enjoying a good time) and 3) classes tailored for you (choosing the topics that I am interested to learn).

Due to all the above, I am taking classes with CiE and I encourage to you to request a free trial lesson."

by Ana López, Pharceutical Industry Consultant
Madrid, Spain


Valérie Reynard
"I love CiE classes and the system. It is agile to book, easy to communicate with the administration and the teachers.

The classes are prepared according to the needs you have, therefore they are very useful and tailored. The teacher is always in a good mood and willing to help.

Totally recommendable."



by Valérie Reynard, Coach ACC - Trainer
Barcelona, Spain


Mari Carmen Ariza
"After so many years studying English trying different methods without really seeing any significant progress, I have to admit that Conversion in English's method is very complete covering all the areas and really helps to learn and improve your level of English.

If you go deep in the lesson summary, received after each class, you see that it's been very thought through and it's really complete. It's helpful not only to review your last lesson's learnings (Language Correction Assessment) but to use other useful tools that can help you to learn in other situations (Suggested Self-Study material).

My personal experience has made me realize that it's essential to spend, at least, a little time reviewing the aforementioned just before your next class. This really makes a difference to progress in your learning experience, as you brush up on your previous learnings and you put them in practice in order to interiorize them quicker.

In my opinion, another key difference in this methodology is to use video conferencing during the class. The visuals help to get a better understanding of the explanations and to develop a closer relationship creating a comfortable atmosphere open to learning.

And the best, the great team of teachers that have been selected. This is the secret to making this method successful. Different accents, variety in the way to teach through a common methodology allows you to get use to understanding different a approach and speakers. In this sense, you naturally learn through diverse styles guaranteeing always profitable learning.

Happy to belong to your nice family!"

by Mari Carmen Ariza, Change Management Manager
Barcelona, Spain


Matias Cabrera
"I was looking for a new method to practice and improve my English skills and I found Online Conversation Lessons. After I had the free trial class with Bruno, I felt that it was what I had been looking for a long time.

It´s is just what I need, I can choose from wide available timeslots, not having to run from my work to class and more so, not being tired. Choosing your own class, you can relax, be calm and with the desire to learn and speak a lot.

This experience is amazing because the only thing you need to do is to have fun (Yes, to have fun!) and your English skills improve every class, but, the only rule is to be persistent in the number of class to take every week.

The most important is that teachers prepare a plan for your personal development and you will find fantastic native teachers with lots of energy and with the objectives: to teach, correct and lead you towards your goals.

So, what are you waiting for to enrol?"



by Matias Cabrera, Financial and Administrative Chief - Controller
Buenos Aires, Argentina


David Elvar
"Three months ago a good friend told me about Conversing in English. He said I would be able to speak to people around the world, listening to different accents, with very high and flexible availability. It sounded really nice.

Now after taking two lessons a week for the past three months, I can confirm it is all true, but that's not even the best part. The best about CiE is the people behind the scenes. It's not just about speaking English for an hour. They really take care of your needs and goals, and prepare your lessons based on this.

I want to share a personal real-life experience. Two months ago I had a job interview in English and this was a great opportunity for me. To be honest my English is not so good yet. One and a half year ago, I couldn't put two words together in the same sentence so this interview was a big challenge for me. The week before the interview, CiE prepared a tailored learning plan for me in order to practise for the interview and I took a lesson every day that week. Now I'm enjoying my holiday waiting to start in my new job in September.

Thank you so much for helping me improve my English, for helping me achieve this new challenge and for delivering English lessons in a way I really enjoy.

I strongly recommend CiE: very good online English learning platform and an awesome team working for it."

by David Elvar, Senior System Architect
Madrid, Spain


Marcela Ojeda
"My experience with Conversing in English has been really rewarding; it has given me the opportunity to train my listening and speaking skills. I feel now much more fluent and confident than when I began. Besides the teachers are easy-going and they try to help you as much as possible.

During the class we talk about any topics mainly situations that are happening all over the world. As I enjoy reading a lot, Bruno suggested some short stories to practice vocabulary. I also usually listen to TED talks to maintain and improve my listening comprehension.

Indeed I recommend Conversing in English as a useful tool to improve the comprehension of a foreign language; on top of that you have a great time!!

by Marcela Ojeda, Regulatory Affairs Manager
Santiago, Chile


Miriam Sánchez
" Hi! I'm Miriam Sanchez Training & Development Manager at Fluidra group. I was looking for an English training program that would provide us flexibility and improve our employee's English level in a short period of time since our company is currently undergoing a merger with an American counterpart.

It was a duel goal to find a good provider for the company and a good method to improve our level of English.

Bruno offered me the possibility to do a trial lesson in order to try how everything works at Conversing in English, and it was a discovery for me. I spent the whole hour speaking, he corrected important things and helped me with my pronunciation too. When I finished the class I was totally convinced to enrol in the course.

From that moment I recommended all our employees who needed to improve or maintain their English level, to contact CIE. I can assure you that all of them who have tried it have enrolled.

We can book classes whenever we are available. We meet different teachers with different accents and we talk about everything making the class so much fun.

I always say... don't waste time, try it and you will see by yourself."

by Miriam Sánchez, Training & Development Manager
Fluidra Group
Barcelona, Spain


Manuel Fernández
"I would like to express my satisfaction with Conversing in English. I am an experienced employee of Cassidian Solutions, a company of AIRBUS (an international group with worldwide implantation), and I am taking lessons within the framework agreement between Cassidian Solutions SA and Conversing in English.

Conversing in English's method allows you to take lessons over Skype whenever you can, with various teachers available from different nationalities. This has some advantages:

1) It allows me to improve my English level, adapting it to my personal and professional calendar -the flexibility of the system makes it easy to schedule sessions during weekends and at late hours with short notice.

2) I can improve my level of understanding by listening and speaking with different interlocutors, which trains me better for real-life situations, exchange of information and conversations in English with people from different nationalities, gender and age.

The only drawback perhaps could be the dependency on IT technology. This sometimes can make online communication challenging (noise, delays, distortion) compared to a face-to-face session, but even this is also helpful in real-life situations at work. The standard way to communicate in my company with people abroad is in English and via IT systems, so communication problems are not uncommon. These become good training in order to perform better in challenging situations."


by Manuel Fernández, Madrid, Spain


Angela Rojas
"I was looking for a way to practice my speaking skills for the IELTS exam, and I was recommended Conversing in English. There, Bruno helped me prepare for the exam and build up the confidence I needed to face the Speaking test.

Thanks to CiE I was able to practice from my own house with native speaking teachers and I ended up getting 8 points out of 9 on the test. Thank you CiE!"

by Angela Rojas, Mechanical Engineering graduate
Santiago, Chile


Piergiorgio Bonazelli
"A link appeared on my PC screen: it was a Conversing in English ad! I was searching for a way to improve my English skills and my fluency for my job and CiE was the answer.

I really appreciate Bruno and Derek's teaching and professionalism and now I'm waiting for the new CiE English for Aviation professionals course.

Thanks CiE!"


by Piergiorgio Bonazelli, Air Traffic Controller
Fano, Italy


Ana Malumbres
"When I decided to take online conversations lessons, my goals were to improve my grammar and vocabulary, to refine my pronunciation and basically, to gain fluency for possible future job interviews and professional challenges. Thus, I was looking for professional native English teachers who were able to correct my mistakes and show me what I should train/ improve to achieve a higher level of English.

Conversing in English is the perfect partner to improve your English.

Since the beginning, I realized that I had made a good decision. After the trial lesson, Bruno knew perfectly my actual level of English and what my weaknesses were. Each lesson is different and according to your level and skills. Furthermore, CiE provides you with several good resources including a lesson summary to practice your spoken and written English. Although you are able to speak with a great variety of different native teachers, I love my lessons with Rhoda and Bruno because you learn having fun, by having interesting conversations and using skilled methods. The capacity to book a lesson anytime at your convenience and the flexibility to use Skype through your smartphone, tablet or computer makes Conversing in English offer perfect.

After 2 months, I am totally aware of my recent progress and I am looking forward to reaching a better level based on my practice and work and thanks to CiE resources and talent.

I highly recommend anybody with any level of English to request a Trial Lesson and I am sure that you will become part of the Conversing in English family."

by Ana Malumbres, Marketing Manager
Navarra, Spain


Carlos Bustillos
"When I began to take lessons with CiE, I had the impression that this course would be more than it was advertised on the internet. Indeed it was a real surprise for me having trainers as Bruno Moro and his team of talented professional teachers, who not only have knowledge of English, but they are able to master any topic in general.

Other unique advantages offered by CiE is the flexibility of their schedules and different nationalities of their teachers as it allows you to receive classes during more relaxed moments and meet a variety of accents and pronunciation respectively. I particularly have developed my ability to listen and understand from the first class, as that was one of my biggest problems that I had never been able to improve with other courses.

Finally I want to thank each and every one of the teachers whom I have received classes with, in particularly to Rhoda and Bruno, as an important part in the development of my career. I never thought that a school as the CIE system, would become the best tool to improve my English.

I can totally recommend CiE to those executives like me, who don't have the time available to attend conventional classes and with non-native teachers."


by Carlos Bustillos Petit, MD
Santiago de Chile, Chile


Jacobo B.
"Years ago I met Bruno and the CiE method. I started with a trial class and years later it continues to be my favorite way to learn English.

The classes are very comfortable because I can take them anytime from anywhere. Having teachers in different countries is an advantage for timeslot availability and also to experience different English accents. In the classes, we work on different kinds of exercises, conversation and also, at the end of each class, we spend some time correcting errors, improving pronunciation or reviewing vocabulary.

All the teachers I've met at CiE knew how to adapt the class to my level and they have been very nice and interesting, which makes classes very enjoyable.

In these years I have learned a lot and have raised my level. Besides, I have lost the fear of speaking publicly in English.

I totally recommend this method to everyone or at least try it out to convince yourselft directly :)"

by Jacobo B.
Galicia, Spain


Alberto Andrés
"I've been using Conversing in English for more than 2 years and I can only say that 'it really works'.

Unfortunately I do not use English in my daily life as much as I would want to so these online classes, provided by my company, have been truly welcomed.

Teachers are really pleasant, native professionals and they adapt classes to your level and objetives. You can be sure that you are not going to get bored during the lesson as they use many fun exercises, videos and pictures in order to get you involved.

After each class you receive a report with new vocabulary and expressions learned, grammar and pronunciation mistakes made... All of this is very useful to help you improve your English.

On top of that, it is a very flexible system as there are plenty of timeslots along the day you can select by means of an intuitive and functional website (e.g. it is possible to filter timeslots per day according to teachers´ nationalities). So there are no excuses to not improve your English skills and, as far as I'm concern, chosing CiE is a very good option to do it."


by Alberto Andrés, Airbus Project Manager
Madrid, Spain


Evelina Breschi
"About a year ago, I had changed jobs and I ran into a couple of problems: 1) I rarely spoke English 2) And when I do need to speak English, I speak with people who have a very high level. Therefore, I felt uncomfortable so I started looking for an efficient solution compatible with my busy timetable.

Conversing in English perfectly fits my requirements. Since 6 months ago, I'm a regular student and I'm totally satisfied. The timeslot offer is large so I'm always able to find a teacher available when I have spare time. Lessons are nicely structured including grammar, pronunciation, new vocabulary and common expressions. I appreciate also the fact that after the class, I receive written feedback from the teacher to remind me what I have just learned.

Last but not least, talking to the teachers is very pleasant even after a stressful day. The teachers are not only competent but also attentive to students' needs. They're able to provide good balance between conversation practice and teaching.

To conclude, if you are still struggling to improve your English, try Conversing in English, there's nothing else to it!"

by Evelina Breschi
Bern, Switzerland


José Daudén
"My experience has been superb for what I was looking for: to practice my English, gain a plus on vocabulary and speaking.

All this has been totally achieved with just 3 months of chats with CiE. Timeslot flexibility makes CiE easy and possible to combine lessons from lunch time at work, to late night at home.

Teachers from all over the world guarantee great variety of topics to chat about and I enjoyed conversing to differents accents: British, American, Australian, Irish.

I would have never imagined practicing could be so easy, no matter how busy I was. I really appreciate how the teachers' willingness had helped me improve and gain such great practice and fluent speaking."


by José Daudén, Chief Financial Officer
Madrid, Spain


Gustavo Castillo
"Conversing in English or 'how to improve your English without being bored out of your wits!'

While I was searching for an 'alternative' way to brush up on my English I came across CiE. In fact, I was fed up with Monday-Thursday evening lessons in a crowded classroom. Too boring for me.

Luckly, I started to attend lessons with CiE. That's when my point of view about learning English changed dramatically. I'm the lord & master of my lessons, I have professional and well trained native teachers just for me, meaning I can send them in advance what my needs for my next lesson are; If I have a presentation, an interview or a business topic that I would like to work on.

After a year of using CiE. I can say the results are awesome. Not only am I more confident with my English but I also have lots of fun when I'm in my Skype lessons.

If I were you I would definitely give it a go. It's really worth it!"

by Gustavo Castillo, CEO formacionamedida.es
Barcelona, Spain


Federica Bigongiali
"Because of my husband's relocation abroad I needed to improve my English level to be ready for new challenges.

Having a child it was not easy to attend an English course. I missed classes and I was not able to keep up with the rest of the group. Searching on internet I came across Conversing in English and since then things have been much better. Flexible timetable, possibility to postpone classes and a choice of different qualified teachers.

It has been always a pleasure to attend classes with Bruno and Ash even in the evenings when I am exhausted! But also the others teachers are competent and friendly.

I also received support from CiE to prepare my CV, simulate and do job interview preparation.

Now I feel much more confident in speaking English and YES I would definitely recommend CiE to a friend!!"

by Federica Bigongiali, PhD Researcher
Zurich, Switzerland


Jlenia Zagon
"I studied foreign languages at University and I recently stumbled across Conversing in English while I was looking for a suitable way to keep up my knowledge.

Having online lessons is a very flexible solution which makes me save time. I like it because while I practice English conversation I also have the chance to meet English native speakers who come from different parts of the world. I really appreciate receiving a summary at the end of each lesson to review new vocabulary and phrases.

I would definitely suggest Conversing in English to anyone who is looking to practice English in a friendly manner. You just need to have an internet connection, choose the right timeslot for you and then the game is on!"


by Jlenia Zagon, Inside Sales Assistant
Padova, Italy


Sophia Khesin
"My personal relationship with Conversing in English started more than 1 year ago when I finally decided to improve my small talk skills and be able to keep a smooth conversation with my clients.

Whilst working for a big international company, I was looking for a convenient, flexible solution to improve my speaking, pronunciation and extend vocabulary at different times of the day and on weekends.

Now after 1 year I can surely state that Bruno and Rhoda, my favourite teachers absolutely exceed my expectations and I'm really satisfied with my achievements.

Moreover, at the same time, my husband joined to me in this great journey to practice English in such pleasant manner and sometimes we have family discussions about the topics we've covered with our teachers.

Undoubtedly, it's a great choice to learn with Conversing in English and I'm always looking forward to every next lesson."

by Sophia Khesin, Project/Program Senior Manager
Tel-Aviv, Israel


Alessandro Storti
"Due to my work, I speak English most of the time and therefore it's very important for me to speak it properly and fluently.

My communication skills have been enhanced after I finished my online lessons with Conversing in English. The teachers are the smartest, most diligent and friendliest people I have ever met. They know what I need, and during the lessons they are very effective. I have not only improved my communication skills, but also gained more confidence in speaking English.

It is more than just a simple course to me, it is like meeting up with a dear friend."


by Alessandro Storti, HSEE Engineer
Milan, Italy"


Angela Bellia
"My experience with Conversing in English is really satisfactory.

I use English every day for my work and research, as well as for writing papers for conferences around the world. Thanks to the CiE staff, I've improved my English skills, and they've helped me to develop my language both spoken as well as written.

Bruno is a very professional teacher: he has an excellent teaching method and in every lesson he plans to enrich my skills. At the same time the lessons are very frendly because he is a very nice person too.

Claire helps me with proofreading of my scientific articles and new research projects. Her proofreading is very diligent and precise. When I send my papers for peers to review them, I am confident that the English academic language is accurate.

I would like to suggest Conversing in English to anyone that is looking to improve their English not only to make progress in the language, but also for your career development."

by Angela Bellia, Researcher
Bologna, Italy


Adolfo Robledo
"ConversingInEnglish.com provides almost full availability options in order to suit perfectly my needs. I chose them in light of improving my speaking, accuracy and style. I would like to point out that one-to-one online lessons with teachers of various nationalities is a significant advantage.

Nowadays fluent English is a must. Key factor to be in the market. We need to be on the same page as our partners.

I decided to still continue with my lessons, hence now it's my pleasure to recommend CiE to my network."


by Adolfo Robledo, CFO Corporate Business Controller
Madrid, Spain


Elisa Di Carlo
"My experience with Conversing in English was really satisfying!

Thanks to CiE, I prepared a successful job interview for a PhD position! I am sure that, without their help, I wouldn't have passed this difficult milestone! Therefore, I especially recommend CiE to anyone who has to prepare for a job interview.

Teachers are able to provide a 360° support, from the linguistic to the psychological point of view. In my case, they helped me in the preparation of my presentation speech, the improvement of my pronunciation and together we trained with many interview simulations. They also helped me to manage stress and encouraged me a lot, so I became confident in few weeks.

I was impressed by the fact that teachers exchanged information about me so I could book from a teacher to another without losing the logical thread of my training. Also, what I really appreciated is that teachers are extremely professional but friendly at the same time. So you learn a lot, without getting bored.

After trying many English schools I can definitely say that CiE has been the best solution for me because I can really practice English conversation in an enjoyable and effective way."

by Elisa Di Carlo, PhD Biologist
Rome, Italy


Andrea Maresi
"As I usually do with friends and acquaintances, I really recommend also CiE to everyone who is interested in trying an alternative but professional way to improve their spoken English performance.

I found several advantages that convinced me to use CiE from time to time. For working people like me, who like to keep their English at a good level, it's very challenging to converse with different teachers of various nationalities from all over the world. For a good price, I can decide to start my virtual class early in the morning and book my lesson i.e. with a teacher from Australia or fix a lesson later at night when I am back home after work with a British fellow. This flexibility is very important to me and also their punctuality!

I have found this method also very useful to prepare for some oral exams. Thanks also to the written interaction you experience during each lesson, I succeeded in passing an exam in English and got a new job!

Request a free trial lesson and you will see yourself that it really works!"


by Andrea Maresi, Institutional & media relations specialist
Brussels, Belgium


Mosa'b Ayesh
"When I decided to have English conversation lessons I was worried to fail again. Fortunately I have found a talented teacher like Bruno.

From the first trial lesson I was sure and determined to be a member at "Conversing in English" because I feel very comfortable with its perfect methodology that enriches you with strong and useful vocabulary, with a nice way to correct your grammar, to build up your self-confidence to speak fluently and naturally.

Honestly every single lesson I feel better."

by Mosa'b Ayesh, Studio Manager
Amman, Jordan


Cristina Badone
"What I love the most about ConversingInEnglish.com is that you can schedule lessons in your "free time" and thanks to Skype it is perfect also for whom, like me, travels a lot.

Conversation lessons are 1-to-1 and it's nice that different teachers remember you, your hobbies and your work... it makes lessons very friendly with a touch of fun (and not just because of your mistakes :-))

When I changed my job I had to improve my fluency in conversation and I found CiE to be the right choice for me."


by Cristina Badone, Web Marketing Specialist
Milan, Italy


Jonathan Méndez
The best about www.ConversingInEnglish.com is the 1-on-1 methodology. You have a teacher for a whole lesson to yourself. The teacher knows you and knows your needs.

On top of that, time goes by really quickly during the lesson. Your English skills are improved seemslessly, almost with no effort at all.

by Jonathan Méndez, Functional Analysist
Madrid, Spain


Julie from France
"I came across CiE when I was preparing for a competitive professional exam, and I was searching for conversation classes to work on my accent and speaking skills. I booked a free trial lesson with Bruno. And right away his professionalism was convincing. I knew immediately that I had found what I was looking for, so I jumped on the bandwagon.

The teachers are all competent and also friendly. They are native speakers from different countries, with varied accents. You can choose to work with any one, or all of them depending on your objectives. Lessons are adapted to personal needs. I found it exciting and enriching to work with various teachers. We focused on pronunciation, intonation and stress pattern, not forgetting grammar and vocabulary. CiE teachers combine professional skills with different personal qualities (Bruno's dynamism, Rhoda's pleasant nature, Ash's motivating energy, Claire's versatility…) to form a really great team!

Another important thing for me was the flexible timetable. I had a very busy schedule but it was always possible to book a lesson at my convenience. You also receive a lesson summary which helps you to revise your lesson and also see how much progress you're making. CiE's pedagogical approach is indeed very effective. I attained my objectives within a few months. I did wonderfully well in my oral exams.

I decided to still continue with my conversation lessons just for the fun, and of course you know, that's one of the best ways to learn, and as they say, practice makes perfect. So now I won't hesitate to recommend CiE to my friends and anyone who wants to improve their English."


by Julie
Lyon, France


Stefano from Italy
I discovered Conversing in English while I was looking for some conversation practice for a job interview.

I explained my task to the teachers and they were really able to customise every lesson to my specific needs, which was not only training my fluency or grammar. I found the experience with them really helpful to reach my goal which actually I did.

I strongly recommend Conversing in English both if you want practice conversation and for a specific skill related to English.

by Stefano
Rome, Italy


Mustafa Anjrini
"Learning and understanding English requires a great deal of work and practice. It is not something you can achieve in a month or two. It is a lot of time, time and struggle.

Coming from a country in which English is not at all considered in the education system, I found myself submerged in my degree. After graduating, it was too late to realise that I was language disabled and from that moment I decided to get involved with English.

It was tough and very tough until I got a trial lesson with the CiE in which the teachers shed the light on the fact that English is not just only grammar but other skills like reading, listening, writing and most importantly speaking.

The teaching methodology is effective as it deals with facts and figures which need a lot of observation and thinking at the same time and undoubtedly your learning will be immediately imprinted in you.

A great thing about Conversing in English is the flexibility of choosing the time and arranging it so that it could fit your schedule. Needless to say now that I live abroad, all has paid off and I feel as though English is like my first language now.

I really enjoyed every single moment I spent with my teachers and every word I learned. I hope to meet again not only on a Skype lesson but in the real life too!"


by Mustafa Anjrini, Masters student from Syria,
Stuttgart, Germany


Manuel León
If you´re working, finding a way of learning English in your free time is not easy!

Whilst searching for a way to study English with flexible timetables and experienced teachers, I came across CiE and it meant a definite and helpful way to practise and therefore gaining confidence with the English language.

Using a methodology that is adapted to the student´s needs and capabilities, CiE quickly provides the help most students are looking for. With a wide range of native English-speaking teachers and personalised guidance, the learning process is well targeted to overcome the immediate difficulties.

Studying with CiE also proved very well worth it when moving abroad to look for a new job. Once there, I tried to prepare for an advanced English exam and, again, CiE helped a great deal with a lot of real exam preparation and corrections. In my view it's quite surprising how broad CiE services are and how they can adapt to so many students from all different types of backgrounds, needs and levels. Very recommendable!


by Manuel León, Software Engineer
Palma de Mallorca, Spain
Luis Burgos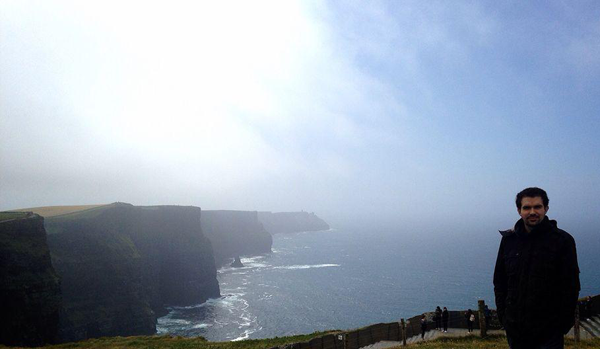 "I took some lessons with Conversing in English because I wanted to improve my English, specially my speaking skills that I hardly ever got a chance to practice in Spain.

It only took me one lesson to realize how much value I could get out of it. After a few lessons I started to get more fluent, correct some mistakes and it even gave me the confidence I needed to try a new experience abroad, which was something that I'd had in mind for a while. I currently live in Ireland.

The lessons are really fun and you get to speak about a lot of different topics and to various teachers. On top of that, you can do it from home over Skype which is really convenient if you don't have much time after work.

I'd highly recommend Conversing in English to anyone that is looking to improve their English."

by Luis Burgos, Software Developer
Madrid, Spain
Paolo Simoni
"I use English every day at work to deal with scientific articles as well as to participate in congresses around the word. Nevertheless, when it comes to speaking with native speakers about other topics than medicine, I don't feel confident enough to have a pleasant conversation.

In addition, I love to watch movies in English in original soundtrack but it is sometimes too difficult for me to understand quick conversations, especially in regional accents.

I found Conversing in English surfing on the Internet, seeking for a way to practise English on a regular basis.

Bruno and his team offer a great opportunity to practise English. The scheduling is flexible and I can take lessons also on busy days. Teachers are from different countries which makes it possible to get familiar with different regional accents. Lessons are very professional and well prepared and the atmosphere is friendly and relaxing.

Two months after starting lessons I'm more fluent in conversation and I can watch television and movies more easily.

Conversing in English is definitively an effective way to improve your English for people who don't live in an English speaking country."


by Paolo, X-Ray and Imaging Doctor,
Liège, Belgium
Nestor Martínez
"I have been working on improving my English speaking for more than a year now. I hope this will go on in the future, first because I have to learn a lot more and second Conversing in English is one of the best and most pleasant ways of doing it.

I met Bruno and his team thanks to a friend of my wife's (She is always recommending CiE to anyone who wants to listen to her). I was studying English but I felt downhearted because I didn't manage to advance with my speaking skills. I did a trial lesson with Bruno and right away learned it was what I needed.

I have reached my goal. I feel more confident when I have to speak in English because I am more fluent and they have given me the tools I need to successfully face this task. Since then I'm constantly getting better and soon I expect to pass the B2 level exams.

I am a very busy person, but CiE is very flexible, I don't have any excuse not to practice. Even I have to admit that sometimes I am waiting for my English classes because I do really enjoy with them. If you have problems with your spoken English, I would strongly advise you to take classes with them. I am sure that Bruno and his team will get the better of you.

Thanks to CiE for their invaluable help!!! "

by Nestor Martínez, High School teacher & Business Consultant,
El Ejido, Spain
Ismail from Turkey
"Everything started with me searching to practise English face to face on the internet. I wrote "Skype" and "Conversation English" and after this, I found CiE :)

I tried them out and I'm a member of the CiE "gym" now :). I try to work out especially twice in a week and it has built up pretty good "muscles" too!

If you want to practise your English live and naturally, you should try the CiE "gym". Don't feel embarrassed, nervous or shy when you think about trying CiE's workout. Just request a trial lesson and see for yourself how you can practise English in a relaxed, fun, happy and sometimes crazy way.

Thanks to Bruno and his team for greatly helping us."

by Ismail, IT business,
Istanbul, Turkey
Daniele Trotti
"In my view Conversing in English is an amazing way to improve your English.

When I decided to take up conversation lessons, I was very worried because I'm very busy at work and on top of that I have a little boy to take care of. The opportunity to take lessons at anytime has been an extraordinary plus.

Bruno and his team are always available, the lessons are fun and very very useful. Plus practising with CiE gives me the opportunity to learn something new everyday.

Thanks CiE..."

by Daniele Trotti, Business Developer,
Rome, Italy
Antonio Martin
It all began one night. I was looking on the internet for online English lessons. Due to my job and my new-born son I don't have much free time, so I needed something very, very comfortable.

When I found Conversing in English I knew it was exactly what I needed. I decided to book some lessons and the experience was really positive. I could continue practising, while my children slept at home while I sat in my bedroom. Who could've imagined anything better?

I have now passed the Cambridge FCE exam and I'm really relaxed. It's been a hard journey but working with Conversing in English was one of the reasons for my success. We trained the Speaking part thoroughly and when examination time came, I felt confident, prepared and did a great performance. I strongly believe that I invested my money in the best way when I decided to ask them for help. It was the only way for a person like me, with children at home and a long working day. Give it a go! :-)

by Antonio Martin
Zaragoza, Spain
Ignazio Di Salvo
"Hi, my name's Ignazio. I'm an Italian guitar player currently living in Belgium.

Since I met the CiE teachers I clearly understood that they were the right people to let me improve my English. They've helped me a lot to develop my language both spoken as well as written. This has been very important for my job but also to meet and communicate with many friends from different parts of the world. Their teaching method is clear and well organized as well as time saving!

I'm very grateful to Bruno for his precious advice! I wish him and CiE all the best from the bottom of my heart."

by Ignazio Di Salvo, Guitarist,
Agrigento, Italy
Marina De Santis
"I've found CiE very useful. Having the opportunity to take lessons from home allows you to better organize your daily schedule. Also I've found it a fun and innovative way to receive private professional tutoring at the same level or better that you could find in many ordinary English schools.

I'll suggest it to my friends!"

by Marina Di Santis, Labour Law Inspector,
Rome, Italy.
Fernando Diez
"After years of studying English as a foreign language, I had the necessary vocabulary to understand quite well, at least reading and at a written level. However, my spoken English sat at an average level mainly due to my lack of practice on this skill, which nowadays represents a major handicap.

So, after trying different ways to improve my skills in this sense, I'm glad to have met the CiE team. With only a dozen lessons with teachers all over the world, I've realised my spoken English is more fluent after taking weekly Skype lessons, with a flexible schedule and a totally personalised and friendly treatment. Of course, it has proved tremendously useful too, as I've had the opportunity to demonstrate it in some job interviews.

In brief: just what I needed."

by Fernando Diez, Biochemist,
La Rioja, Spain.
Silvia Inzoli
"Once a week CiE is now an awaited appointment! I have to admit that before starting I was a bit afraid not knowing what to say during the conversation, but all the teachers have made me feel comfortable since the very beginning and they always suggest interesting topics! At the end of the lesson I often can't believe that an hour's just passed, because the time goes fast as when you chat with a friend.

Finally I have found a learning method that is very helpful from many points of view: vocabulary, pronunciation, and grammar ... all I need to do is listen and speak English with less worries and misunderstandings!"

by Silvia Inzoli, Geophysics PhD Student,
Milan, Italy.
Mariangela Castronovo
" Hi guys, I'm Mariangela from Italy, currently living in Milan. In my job I haven't got many opportunities to practise English.

CiE has meant to me: freedom, new possibilities, a change in my life, openess to the world ... and all this from my house. It doesn't take up any time from my job or my personal life .. Bruno's staff are always available.

I'm a teacher of Italian as a foreign language and I really admire their teaching method which I consider extraordinarily efficient. CiE teachers are professional and competent. They bring out the best in you, they study your needs, they respect your learning style and convey enthusiasm, confidence and positivity.

I recommend CiE to all my friends because it is guaranteed! If you study with Bruno and his staff you will improve your English everyday! Improve vocabulary, pronunciation, fluency, comprehension.. and you are able to correct your grammatical errors without the teacher's help, thanks to their inductive and intelligent method.

The relationship you have with the teachers is very nice, they are friendly and very kind. There is no preasure during the classes, and you can relax and simply improve your English. Seeing is believing! =) From the first lesson you'll love CiE!"

by Mariangela Castronovo, Teacher of Italian,
Milan, Italy.
Anna Enciso
"After years of studying English and having tried all possible methods, CiE is the best one suited to my lifestyle.

All the teachers are very friendly and professional. The classes are very entertaining and everyday you learn something new. Thanks to them, my fluency and pronunciation have improved notably."

by Anna Enciso, Project Manager,
Barcelona, Spain
Page 1 of 3